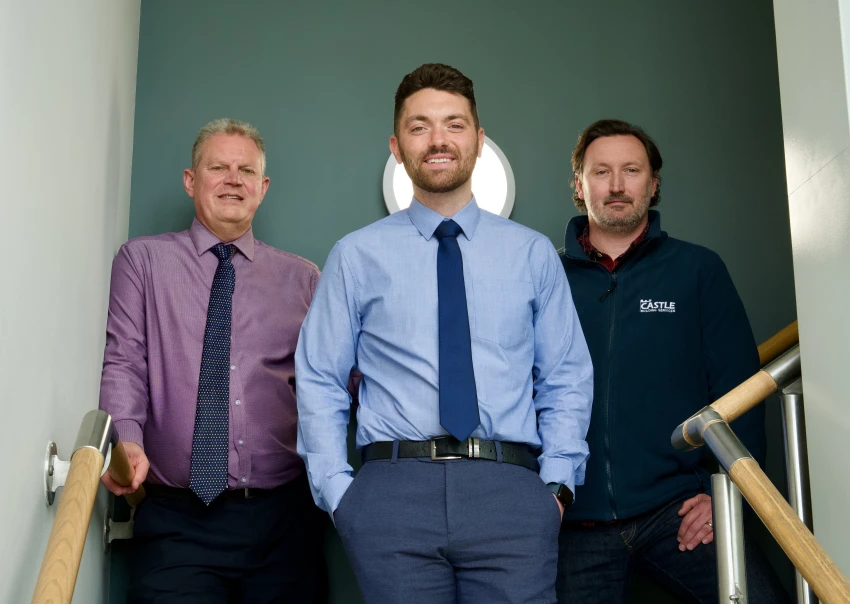 A very warm welcome to our new starters.
Castle Building Services has appointed Neil Hutchinson as operations manager, Mark Jenkins as mechanical project engineer and Richard Learmouth as senior quantity surveyor.
Both Mark Jenkins and Richard Learmouth will be based at the company's headquarters in South Tyneside with Neil Hutchinson, operating from its Edinburgh office. His role will span across the central belt of Scotland.
The announcements follow a raft of new starters in recent months, including the appointment of Martin Smith as senior mechanical estimator.
Headquartered in Hebburn, with a headcount of 134 and offices in Glasgow, Edinburgh and Teesside, Castle Building Services, which last year recorded £30 million turnover, is one of the UK's leading providers of building services, offering a wide range of high-quality construction and engineering contracting services covering all aspects of building, mechanical, public health, renewable and electrical engineering.
The company is continuing to increase its head count as it looks to build on its role as principal contractor, having recently been appointed by UK Land Estates for the refurbishment of the Axis Building, Maingate, located on Gateshead's Team Valley Business Park.
Neil Hutchinson, said: "I join Castle with a range of expertise and, as operations manager, I aim to really put my stamp on activity in Scotland. We are doing well in the region and I want to continue to build on this, growing our presence, so we are the go-to choice of principal, specialist fit-out and MEP contractor."
Mark Jenkins, said: "Prior to joining Castle Building Services, I worked at Norstead Ltd for nearly 10 years as a mechanical project engineer but was made redundant in February when the company collapsed.
"The North East construction sector is a tight-knit environment where everybody knows each other. I was delighted to be approached by Castle Building Services and jumped at the opportunity to join the company.
"I knew that it was a good employer and had been steadily growing its team, so this is a good opportunity for me to progress my skill set with the company."
Andrew Dawson, managing director at Castle Building Services, said: "We welcome Neil, Mark and Richard, whose skills will undoubtedly add value to the services we provide to customers. They all fit the culture of the company well and we look forward to supporting them on their journey ahead.
"2023 is proving to be a busy year, we have developed a long-standing relationship with UK Land Estates to whom we have been appointed as principal contractor for a number of their developments.
"We also continue to build on our strong offering of mechanical, electrical and pre-construction services and are working on a number of education projects across the central belt of Scotland.
"As the year progresses, we will be announcing more new starters and have a number of exciting projects that we will soon be commencing."